OpenRunner
this is the story of a company like no other...
It was 2006, the dawn of the digital age, a time when GPS was still in its infancy. A seasoned endurance athlete and practising triathlete, Eric Thouvenin, felt the need to plan his training and outings, calculating the distance and altitude difference of bike and running routes in advance.
This initial personal need led to the novel idea – with no commercial stakes behind it – to create a prototype allowing tracks to be created and sent to a GPS, to follow each route. As it offers the opportunity to run freely however the mood takes you in the largest "open space" available – the outdoors – the name OpenRunner was a natural choice.
This experimental device evolved very quickly in accordance with the positive feedback of many users.
Cyclists, runners, hikers and equestrians, rollerbladers… Everyone saw OpenRunner as an innovative tool that finally met their expectations.
So after 10 years of Parisian life, Éric returned to his native land of Annecy and developed a personal need into a complete solution for a community of outdoor practitioners, surrounded by a small team of enthusiasts.
And since 2010, OpenRunner has been nestled in the heart of the French Alps, in Annecy, a true stronghold of the outdoors.
How to best describe OpenRunner?
Since its inception, OpenRunner has been constantly evolving to allow outdoor enthusiasts to plot, plan, track and record all types of outdoor activities.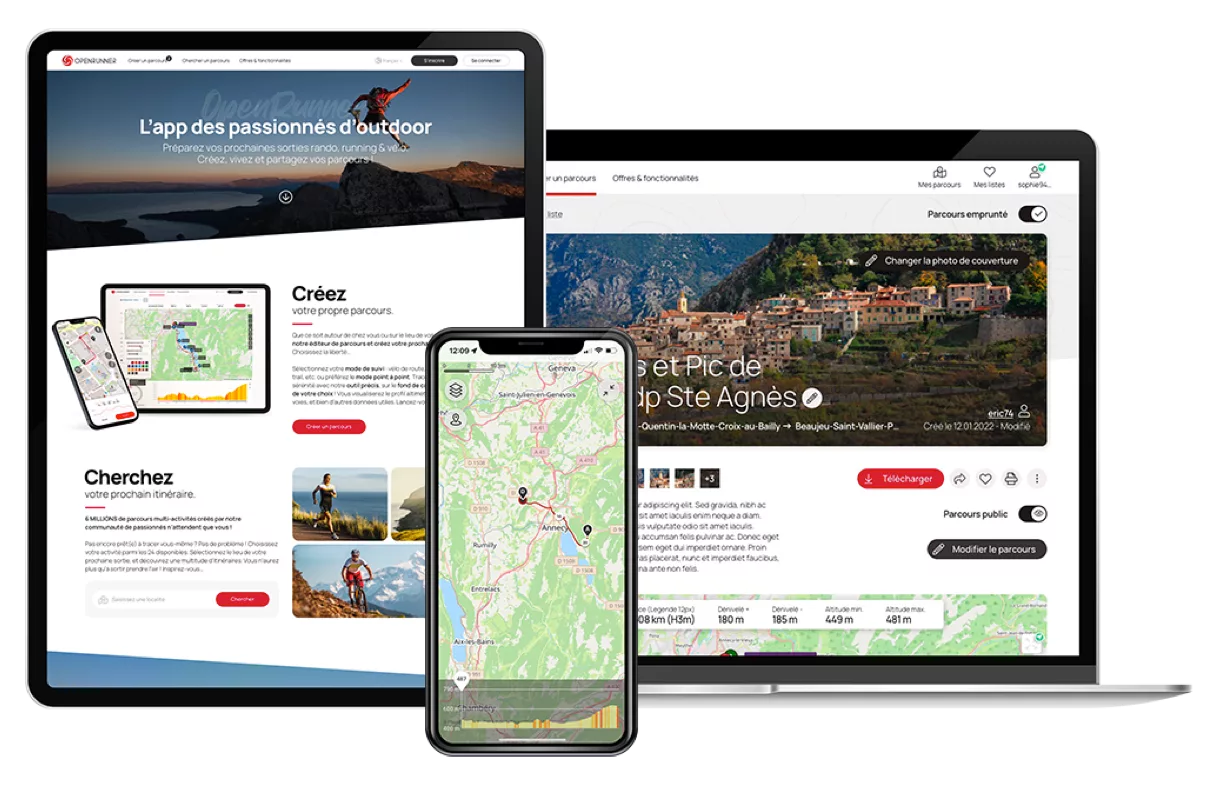 A complete platform
With advanced and unique features and a wide choice of topographic maps, the website was first created in 2006, and a mobile app was launched at the end of 2017, making OpenRunner a complete French digital platform to enjoy each outdoor experience in a different way, in any season.
At OpenRunner, we encourage the exploration and discovery of new places, new sensations, new encounters and new practices. We want everyone to be able to enjoy their passion in their own way, at their own pace, without worrying about constraints.
A simple solution
This is why OpenRunner is so easy to use. It only takes a few clicks to create your route, save your activities and share it with your friends and community.
Plot your route on the high definition topographic map of your choice, consult the height difference with the elevation profile, locate and add points of interest... You're the one who decides on and draws the contours of your freedom.
Inspiration and Exploration
And if you're looking for inspiration to go on adventures, you can access thousands of routes shared by other users.
Cycling, mountain biking, gravel, running, trail running, skiing, hiking... More than 6 million routes are available, created by more than a million passionate users of all ages!
Filter by location, distance, altitude change or activity to find the outdoor experience that suits you.
With OpenRunner, you break down the barriers of your outdoor activities. There are no limits to your creativity.
OpenRunner is much more than a digital solution based on technology and innovation to track routes. It's a community. It represents a family of enthusiasts who adhere to the same values: sociability, accessibility, exploration and sharing.
It is an active and engaged community that takes an active part in the development of the app. It is a community that resembles us and which makes OpenRunner a space for exchanging and sharing experiences. What motivates us is our desire to constantly develop new features to improve user experience and make it intuitive and enjoyable.
Loyal users who make that if OpenRunner exists and is not a company like the others, it is in large part thanks to the subscription to annual subscriptions, which allows us to self-finance ourselves by reinvesting in our development, without public investors nor private.
What distinguishes us at OpenRunner is that we encourage outdoor activities for health and well-being, without forgetting to preserve our most precious playground, nature. This is one of our commitments.
This is why we also educate app users to respect the environment and the local fauna and flora.
Being close to our users is part of our DNA. For our small team of enthusiasts and sports fans with a spirit of adventure and discovery, it is a point of honour for OpenRunner to become your companion and guide, always by your side during your activities, or behind your screen.
And if you want to know who is behind OpenRunner, get to know the team!